Livestock
We strive to offer Conventional, Non-GMO and Organic versions of all basic farm animal feeds. We carry Farmers Best, Modesto Milling, Bar ALE and Vitalix Supplement.  We have a great selection of poultry feeds, LMF specialty horse feed and a variety of feed for dairy and show animals.
Pet
We carry a good selection of pet foods for dogs, cats, birds and small animals including Diamond, Victor, Evangers, Bird's Delight and Sunseed.  We have treats and toys too!  We also carry medicines and vaccinations.
Hay & Bedding
We stock Alfalfa, Grass hay, straw and wood shavings.  We carry local grass hay when it is available, and grain hay when we can.  Our bales are stored under cover so they stay dry in the winter. We do deliver.
Fish & Reptile Supplies
NEW!!  We are now carrying supplies for aquariums and reptiles!  Please come check it out and give us your feedback.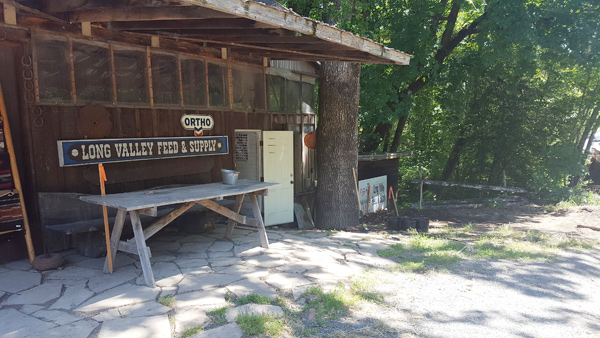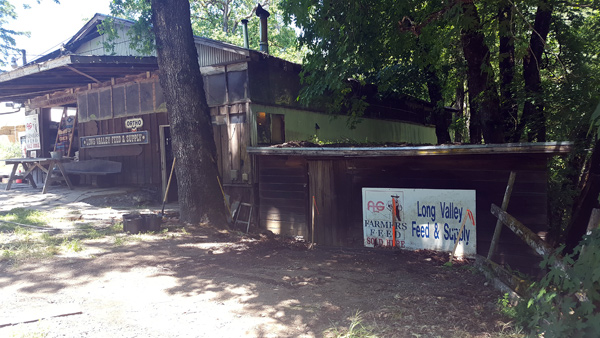 History & A Little About Us
Long Valley Feed and Supply was built in 1947, and has been a feed store continuously since then (oldest continuous business in Laytonville!).  It hasn't really changed all that much.  It's still a Feed Store.  There are baby chicks in the spring, the occasional rabbit, kitten or puppy for sale, hay, straw, grain and pet food, medicine, rain boots, a little horse tack, dog leashes, cat toys, chicken waterers, hog rings, cow halters and parrot food.  And free roosters.  There is a great staff that is happy to load your hay and answer your questions (if they know the answer). We're not the cheapest, but we try to be the most encouraging.  If we don't have it-we'll do our best to get it and if we can't, we'll find you someone who can.  Long Valley Feed and Supply is not "more than a feed store", we're just a feed store and we do our best.
The Shere Family are the 7th owners of the Long Valley Feed.  They came to Laytonville in August 2003, and took over the shop in November.  They were absolutely new to business ownership and have learned a lot since then.  They have a small farm/ranch operation of their own with cows, sheep and chickens (and dogs and cats of course). They like to 'raise their own' when they can and love to encourage other people to raise their own, too.
When I first walked in, I was astounded at the amount and varieties of livestock feed and pet food! There is something for everyone…
Tim
DON'T BE SHY
come pay us a visit!
Telephone:
(707) 984.6711
Address:
400 Branscomb Rd.
Laytonville, CA  95454
Hours:
Mon. – Sat:  9:00am – 5:00pm
Email:
meadow@longvalleyfeed.com